Swimming pool design starts with you. Whether you desire an indoor pool within your home, or an outdoor pool for alfresco swimming in the garden, Deep End Pools are the experts in the design and construction of both. Deep End Pools' experience and expertise extends to many choices of finishes, from concrete tiled pools and vinyl liner pools, to one piece swimming pools.
There are many, many options available to you encompassing design, form, function and aesthetics, and with over twenty years experience and expertise, our in-house design team here at Deep End Pools is committed to ensuring we design and construct your dream swimming pool to your exacting needs.
We work very closely and diligently with our clients in creating swimming pools and home leisure complexes that work for them and their lifestyles. We are very well-practiced in many different swimming pool build techniques, each with its own unique properties that allow for its own specialist finish. We have delivered many projects in the south and home counties, particularly Buckinghamshire, Berkshire, Oxfordshire, London and surrounding counties; as well as in the West Country, principally in Devon, Cornwall and Somerset, each one uniquely tailored to each of our individual clients' wishes, needs and requirements.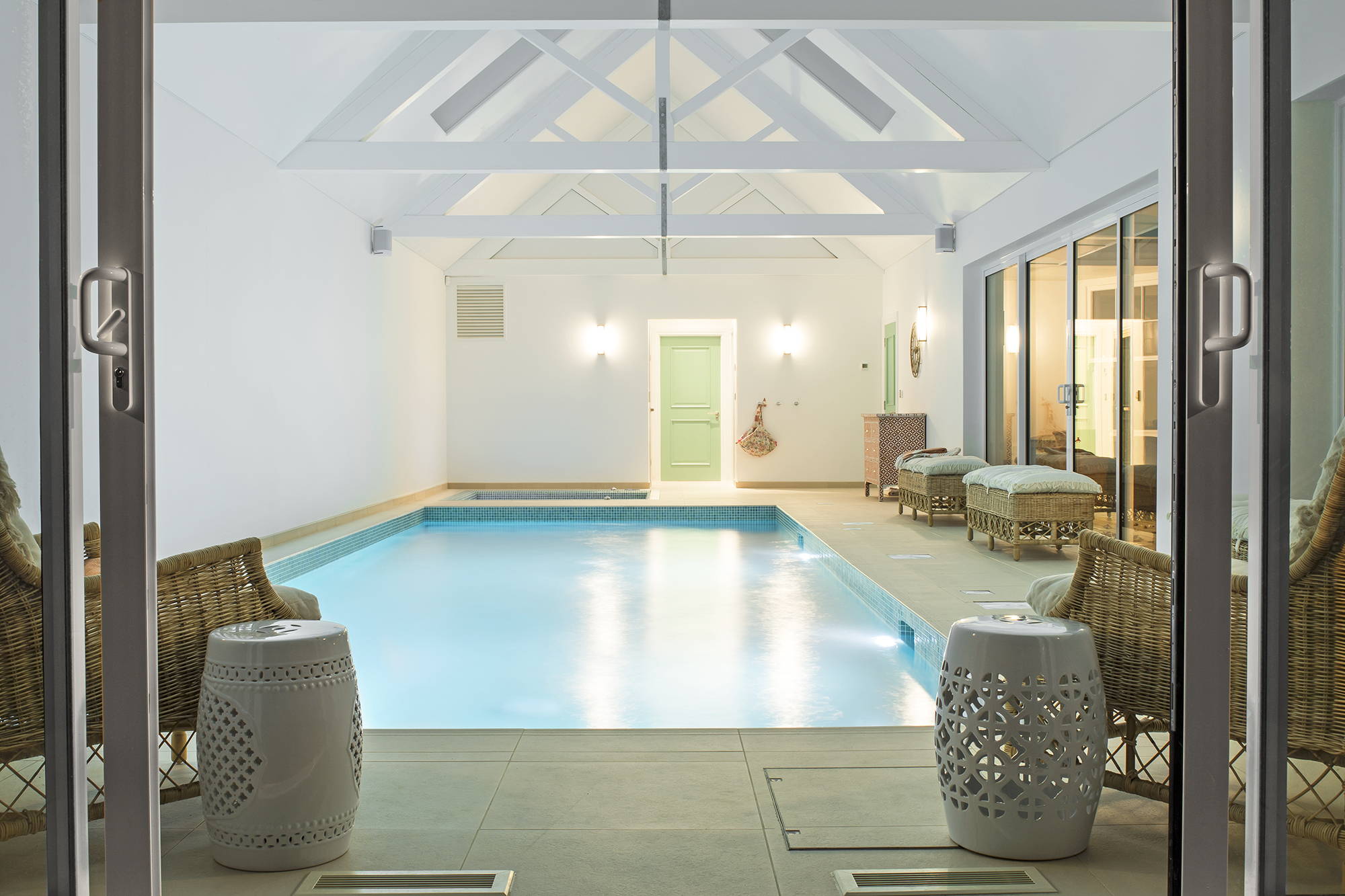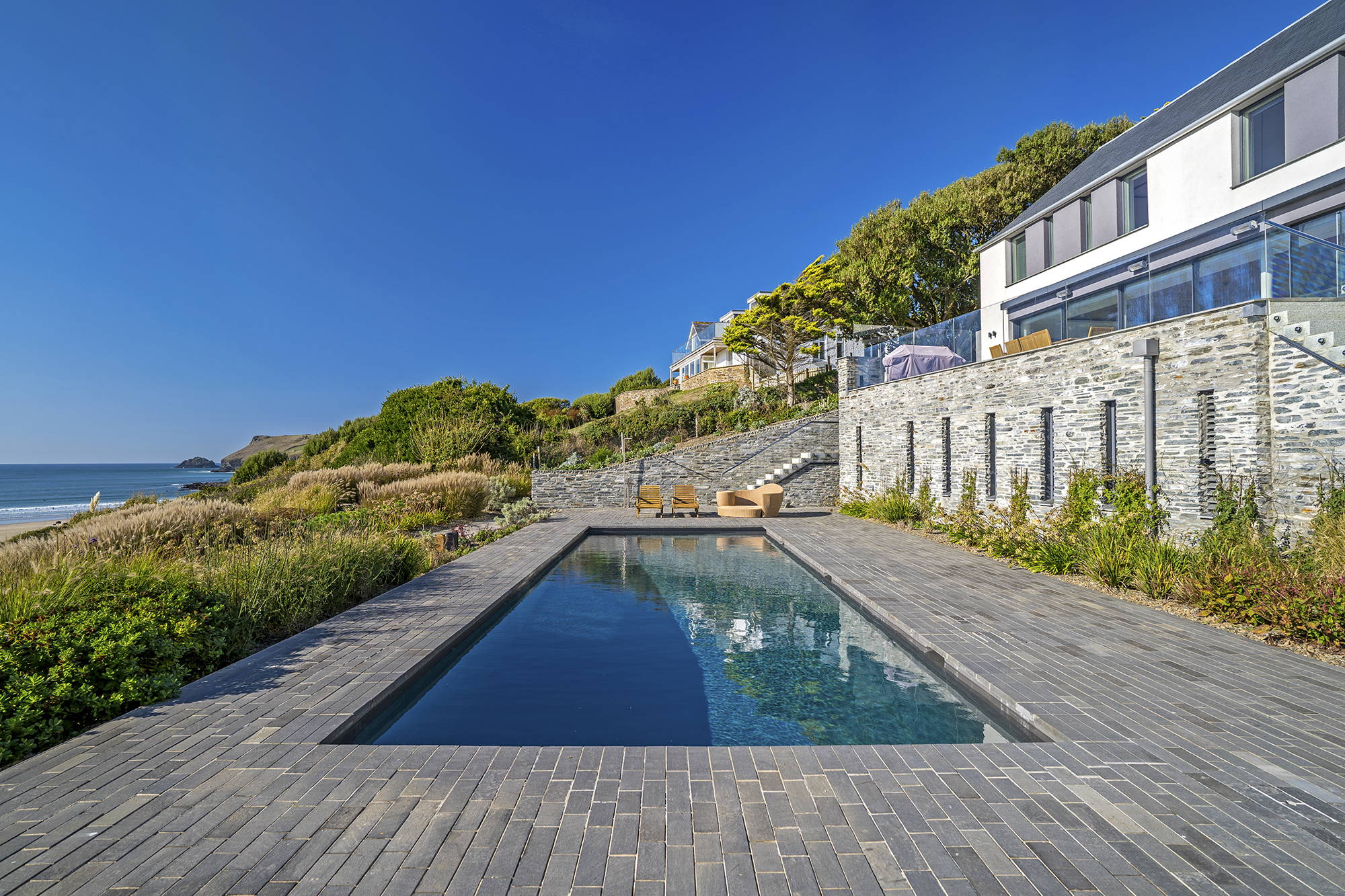 For many of our clients, a fully tiled swimming pool is their ultimate dream. Deep End Pools' highly skilled and experienced building teams have decades of knowledge, expertise and experience in this highly specialist sector, helping discerning home owners realise this dream. From turning your ideas into initial drawings, right the way through to handover of your finished home resort, we have all the necessary skills, expertise and manpower in-house to deliver your dream tiled swimming pool project, finished to the absolute highest standards.
Every swimming pool we construct is completely bespoke to each client's unique requirements. As a long-time member of SPATA (the Swimming Pool & Allied Trades Association) every pool we build is constructed to SPATA standards of quality and construction as a very minimum.
A tiled swimming pool allows you access to an almost endless array of design possibilities and materials selection, which is why we work so closely with our clients at the design stage to establish exactly what they need and want. The only effective limitations on what is possible are imagination and budget.
Building a tiled swimming pool is a highly specialist field of construction requiring some unique skill-sets, competencies, and incredibly high levels of attention to detail. It should not be considered, other than by employing the services of professional swimming pool builders experienced in this field. Whilst building a tiled swimming pool may appear to the layman to be similar to regular building practices and techniques, there are too many unique skills, knowledge and practical experience required to successfully deliver a tiled pool build to put a project of this nature in the hands of the inexperienced or amateur.
Liner swimming pools offer many benefits to prospective pool owners in terms of ease and economy of installation, and many clients like the underfoot feel of the vinyl material used to line the inside of the pool shell. High degrees of tailored customisation are also possible with many options on pool size and shape, as well as a myriad choice of liner colours, patterns and styles.
Deep End Pools are highly experienced swimming pool builders who offer, and are well-versed in, all methods of construction for a liner swimming pool; from the traditional block and liner pool construction for those wishing to effect an economic build, to the fully insulated block systems that achieve much lower heating costs. An initial discussion with Deep End Pools will enable you to establish what is the best method and system to suit your needs.
To learn more about swimming pool construction, or arrange a no-obligation initial meeting and site survey to discuss your needs, please call 01494 671787