Swimming Pool Liner Installation
Deep End Pools are able to install liners on all pools. The past season we have come up againest concrete pools, steel panel pools, polymer panel pools, formworks pools and just about every other style. We have also come up againest are fair share of shaped pools from rectangle with a flat bottom, Oval with a hopper and even an L shaped pool.
The pools have been dotted all around the area but mainly, Beaconsfield, Gerrards Cross, Farnham Common, Amersham, Cookham, Maidenhead, Reading, High Wycombe and Oxford.
The Guys have installed well over 50 liners this year, The guys are starting to think they can fit them in their sleep!
The hardest liner we have had to fit this year has not been on a monster 40′ x 20′ by 10′ deep pool. It was in fact on this pool here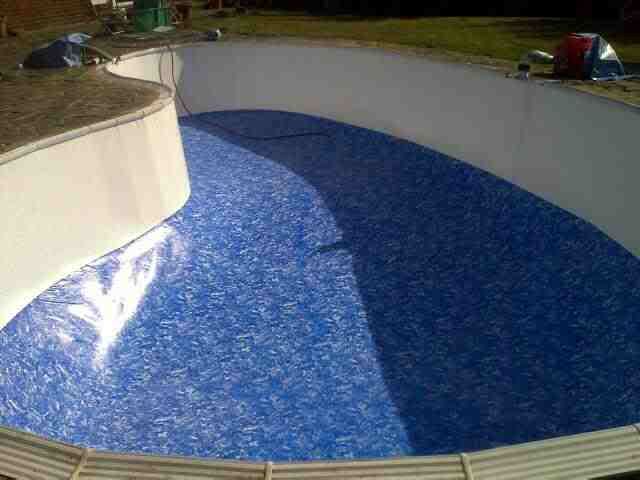 The pool is around 20 year old cascade pool.
The liner as you can see has several different twists and turns to contend againest. If the shape of the pool was not enough the floor and walls are extremely 'undulating'. The guy's were really againest the odds. Liners in general started by locating the corners and squaring the material up. With a kidney shaped pool the liner is one large corner, with no start or finish.
The liner was put into position and kicked into place. Liners in are normally made a little bit too small and strectched into place. With the cascade style pool the coping stone is the liner lock as well. As soon as the guys were getting a section in place and strecthing the liner into place the old coping stone would 'pop' off.
With lots of perserverence and a little elbow grease the liner was into correct position and left to fill up to the first set of fittiings.
We take are hats of to the hard work and effort from the guy's that made the liner fit perfectly.
If you would like Deep End Pools to install you a new liner please call 01494 671787 now!
The post Swimming Pool Liner Installation appeared first on Deep End Pools.
---