Pre Show Build Up – SPATEX 2010
This weekend the 6th 7th and 8th February plays host to the 14th Consecutive  SPATEX swimming pool exhibition. The event takes place at The Hilton Metropole Hotel, Brighton.
All of the exhibitor's will be well into setting up their display stands and display products. Some of the companies go as far as having fully operational swimming pools on display with the latest swimming pool covers, rollers, dosers or equipment in full operation.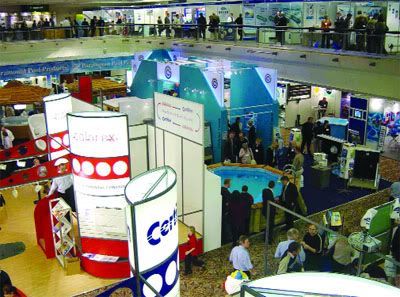 The show is always a big hit among Swimming Pool Trade visitors and Swimming Pool Owners alike. The show always has the most advanced and most cutting edge equipment and technolodgy avaliable on the market. The show is also a great starting point for people who are looking to buy a pool and do not know where to start.
The Show allows for swimming pool companies such as Deep End Pools to view the latest products avaliable in 2010 with a full demonstration and guide through fromthe suppliers and manufacturers.
Some of the exhibitors on display include:
Acuatika, Aligator Systems, Aqua De-Light, Aqua Pharos International LTD, Aqua Solar AG, Aqua Stone Pool Finishes LTD, Aqua Warehouse, Aqufinesse, Aquamat, Aquatrac, Arch Water Products, Arcus Pools & Enclosures, Artesian Spas, Atmosppheric Zone, Barry Haythorne LTD, BASF Construction Chemicals, BOSTA UK LTD, Bowman, Brenntag UK Group, British Swimming Pool Federation LTD, Calorex Heat Pumps, Canadian Spa Co LTD, Catalina Spas LTD, Certikin International, Cheshire Wellness, Coast Spas, CPC LTD, Contech UK, Dallmer LTD, Dryden Aqua LTD, Dynasty Spas, Electair Exports LTD, Elite Spas LTD, Emu Laboratories, EPCO LTD, Euro Spa Pool News, Fairlocks, Filters 4 Spas, Gaffey Tech Services, Geothermique LTD, Heatstar LTD, HWP UK, Hydropool Spas (UK), Innotec Supplies (UK) LTD, Intopool Direct, I.S.P.E, Jacuzzi UK, Jak Water Systems LTD, Kaltech, Lakeland Spas, Life Saver Pool Fence LTD, Lovibond water testing, Mak EnergyLTD, NSURE, 02 Heapumps LTD, Oase NV, Original Style, OSPA Schwimmbadtechnik, Paragon Pool Services, Paramount Pools LTD, Passion Spas, Pollet Pool Group, Poollock, Poolsafe LTD, Pool rx, Pro-Swim Pool Chemicals LTD, Procopi UK LTD, Really Safe Flooring Co LTD, Rotospa LTD, Safety Surfaces LTD, SCP, Siemens Water Technologies, Signature Pools, SP Leisure LTD / Sunsoka Pools, Spa Crest Europe, Spectrum Spas, Sprayed Concrete Services LTD, Starline Pools & Equipment UK LTD, Sun-Save LTD, Sun-Spa, Sunlighten, Suntrap Systems, Swan Analylitical UK LTD, Swimex Group,  Swimming Pool – Bead LTD, The Lifting Pool Floor Co LTD, The Mosaic Company, Topline Electronics LTD, Total Water Products, Triogen Limited, Tylo, Unipools Group, Unipro, Visscher Spa Enclosures, Waterco Europe LTD, Waxmans Ceramics, Weser, Wilton Bradley LTD,
The post Pre Show Build Up – SPATEX 2010 appeared first on Deep End Pools.
---