Perfect Guide on – How Not To Use an Intex Pool
Deep End Pools have been building and maintaining swimming pools for well over 10 years. In our time we have come accross many different installations and unique design aspects in swimming pools.
We have worked on concrete swimming pools, liner swimming pools and above ground swimming pools. In the summer we get a stock of Easy Set Intex pools in for people to use on those hot summer days.
But the this picture has got to be the most unsafe use of an easy set above ground pool ever!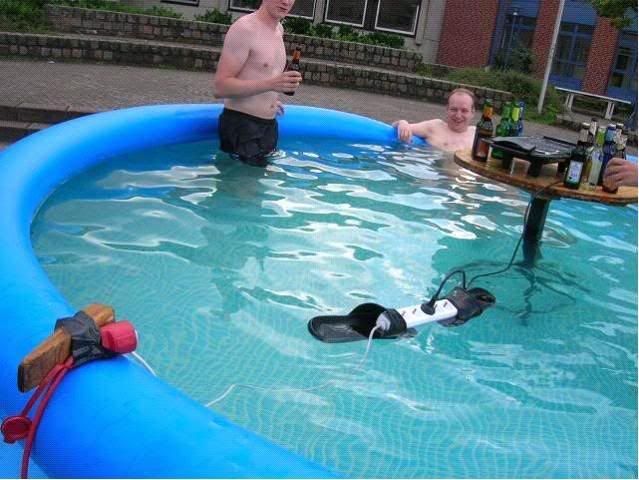 How many faults can see in this picture?
Slightly low air pressure  – Ok we will let them off.
Table In the Pool – One wrong move and then you have a few thousand gallons of water on the loose.
Drinking in The Pool – Everyone needs to relax – as long as responsibly
Drinking From Glass Bottles – One slip and again all the water is going to make a swift exit.
I think thats the only faults I can see. Wait one more.
    5. POWER SOCKET IN THE POOL ON MAKE SHIFT FLIP FLOP RAFT!
I don't think that this extension lead is a standard part of an Intex kit. I don't think I would be in a rush to jump in that pool even on the hottest of days.
The post Perfect Guide on – How Not To Use an Intex Pool appeared first on Deep End Pools.
---