Patio or Pool? – I'll have both!
Certikin International today 28th January 2010 unveiled a new high end swimming pool construction solution. Hidden Water Pools are swimming pools that appear to be an ornate patio area, but with the flick of a switch two minutes later you have yourself a 6 ft deep swimming pool.
Hidden water pools are ideal for restricted areas that would like a swimming pool, but would also like the use of a paved area when the swimming pool is not in use. The pools have so many benefits over traditional swimming pools that they are proving to be a massive success.
The Hidden Water Pools are available in 6 sizes and have many different options to make them truly bespoke.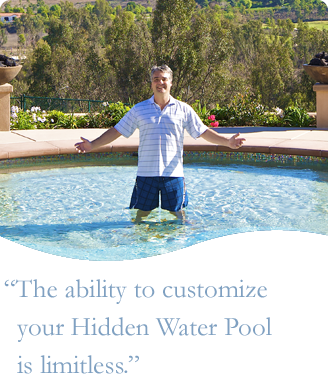 Hidden water pools have variable depth to allow you to make the pool a shallow pool for your children. Or a simple paddling pool to cool your feet. The depth can be adjusted to full depth to allow for a bathe or with the addition of a counter current unit you can have a full exercise pool. You can also incorporate massage jets to soothe away those aches and pains.
The Hidden Water Pool has a control panel that requires a key and a 4 digit pin code to be entered to prevent any unwanted tampering. The floor raises and lowers using the swimming pools own water inside a tube, once fully elevated the swimming pools floor has support legs to hold the floor securely in place with a maximum load limit of 9 tons!
The benefits of having a fully sealed off pool are reduced chemical consumption as there is no direct sun light onto the pool to eat up chlorine, Minimal debris into the swimming pool as it is fully encapsulated and it is extremely safe to have children around as there is no exposed water.
The centre of the floor has a table that can be incorporated to allow the patio area to be fully functional and usable.
The Hidden Water Pool is an extremely versatile piece of equipment for a truly impressive centre piece to any home. The prices for these pools start at around £100,000.
The post Patio or Pool? – I'll have both! appeared first on Deep End Pools.
---