Heston Blumenthal uses a Hot tub to stew a Pig!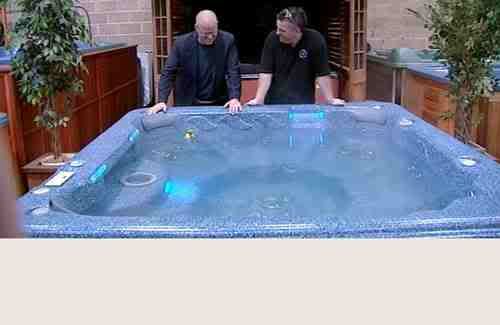 Last night's episode of Heston Blumenthal's latest Channel 4 Programme, Heston's Feasts Saw Heston Stew a pig in a Canadian spa!
Heston Blumenthal owner of the Fat Duck Restaurant Bray Berkshire uses a Portable hot tub spa to stew a pig! 
Tony Burnett from the Canadian spa company, a very similar spa manufacturer to the Marquis spa range, was given the opportunity to utilise a portable spa to stew a huge hog stuffed into a plastic bag.
Were you surprised by Heston's request to cook a hog in one of your hot tubs?
Yes we were surprised at first at the request, but after giving it some thought and having seen some of Heston's work before it didn't really seem weird at all.
So was the hog left floating there all day?
Yes, the hog was left to 'relax' in the spa for most of the day and all night too. We left the radio on for it so that it didn't get too lonely and could feel all the health benefits that a Canadian Spa Company spa bath has to offer. We put the LED lights on for it as well.
It all looked like an absolutely fabulous time from lifting the hog into the spa using a fork lift truck to removing the Hog and presenting to the celebrities at the table little did they know at this time the hog had been stewed in a 60degre an American spa hot tub!
We congratulate The Canadian Spa Company for the great TV; we would love to know how the filtration coped with pig!
If you would like to consider a Marquis spa very similar to the Canadian Spa used in Heston's programme then call deep end pools today to discuss you hot tub or spa needs 01494 671 787
Oh less the pig though…… 
The post Heston Blumenthal uses a Hot tub to stew a Pig! appeared first on Deep End Pools.
---